Gardening Advice By the Month -November
The leaves are pretty much gone now, the first frost has come and gone, but we still have 60-70 degree days before cold fronts pass through, bringing the much needed rain for our reservoirs and aquifers across New England. Time to sit back and relax... not yet, but almost!
The name of the game in November is mulch, mulch and more mulch!
Last month, we talked about mulching around tender plants and those susceptible to wind and cold damage. A good snowfall early in the season that stays put can usually do the job for us, but here in New England snowfalls have been sporadic and unpredictable. This leaves our plants exposed to the cold temperatures and howling winds and its just a good idea not to take a chance on the weather. Depending on La Nina or El Nino or any other of those ocean temperature patterns, the weather here swings wildly between frigid and temperate, with no guarantee of snow or snowmelt for that matter.
If you have a chipper, pull it out and get chippin' -- leaves, branches, anything organic that can be used as mulch. Just be sure to not use any diseased matter from this year's growth. Mulching it and spreading it out will only increase the chance for it to reappear next year and even spread. Diseased plants should be either burned (if allowed in your area), or left out with refuse to be taken to a recycling center, far away from your garden. This is especially true of vegetables.
Mulching should be done to about a depth of 2-3 inches, no more, no less. Leave a little room around the base of the plant to let a little air in as well. This way, the mulch can break down a little over the winter and you've got a headstart for preparing the garden for next year's growth.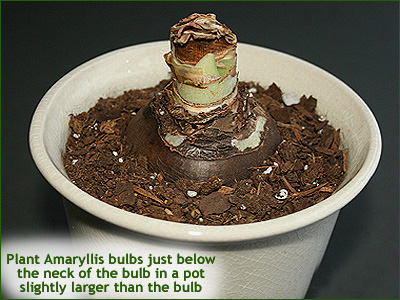 Its really easy to force bulbs like paperwhite and amaryllis for holiday blooming!
Now is the time to pot up some spring blooming bulbs for forcing indoors this winter. Good choices include hyacinth and paperwhites. Simply set them in a relatively shallow dish on a bed of pebbles. The bottom of the bulbs should just touch the water you place in the dish (for larger bulbs like hyacinth, sometimes it is easier to place the bulb in the neck of a small vase with the base of the bulb resting at the bottom of the neck. This provides extra support). Keep the water at a constant level and you will be rewarded with blooms in time for Christmas. Keep potting every couple of weeks for flowers all winter long! For amaryllis, simply place the bulb (large, about the size of softball, usually) in a pot about the same size as the bulb. It does NOT need a large pot or a lot of soil to bloom. Cover about two-thirds of the bulb with soil and water every few days. In about 4 weeks, you'll be rewarded with a 12-18 inch stem loaded with flowers on top.